I'm watching Top Gear at the moment. James May is driving a Merc SL Gullwing. Earlier Hammond was flogging a Morgan Aero. Both such unique looking cars. You could maybe successfully argue style over substance with the Morgan, but I'd contend any proper sports car has to look the part. The Gumpert Apollo goes like stink and looks like it. Like stink, I mean.
Great design. All good cars, not just supercars, have it. I think Pininfarina.
Bertone.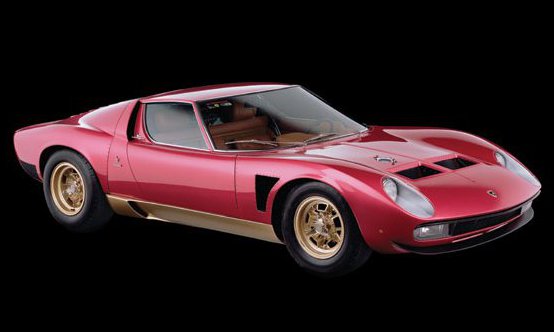 Giugiaro.
The Italians.
I also think Harley Earl.
And Jean Bugatti (his Type 57 Atlantic is the prettiest car ever penned).
I don't necessarily think "corporate" design, which is how most cars are designed. Let's say Hyundai for example. They're now making cars that are, in terms of build quality, performance and technological innovation, on the level with most of Japan and certainly with most American cars. They even have a bit of "style", or a common design language. Same goes for Mercedes. Or BMW. They all have developed a design language that was committeed into existence. It's tooled and applied like makeup to every car in the lineup. The Acura Superman Shield is maybe the best/worst example of this. Or Mazda's smile. Or Toyota's Beige.
It's trite and it's boring. It's a substitute for personality and creativity. It's branding replacing style. It's corporate rock. Maybe they're good cars, but they're just so devoid of anything that would ever stir your soul. And it's 90% of the automobiles sold in the world today. Unfortunate.
But that's the nature art. If you, like me, consider cars capable of being works of art, even if they're mass produced, then you look for that blending of form and function, quirk and practicality, ostentatiousness and practicality. Can you look at a mk1 VW Golf and see art?
Pop art. It's Kanye West or John Lennon or Kurt Cobain. It's created within the sphere of mass culture for that very culture. Doesn't mean it has to be uninspired or uninspiring. Doesn't have to be Ke$ha. Doesn't have to suck. And maybe every once in a while someone gets it right. The new Mini or Fiat 500, pretty much anything with an Alfa Romeo badge, even the new Mustang. You see those cars and you feel something. They evoke emotion. What happens when you look at a Chrysler Sebring? Other than a gag reflex.
So maybe car design is like this; Bugatti Atlantic = Miles Davis. Comes along maybe once a century, changes everything, remains the high water mark for decades. Be thankful for that art existing in the world and inspires honest to God attempts to create something that doesn't suck the world's soul deep into a void of gray. Maybe the next time you see one of these, you'll appreciate it just a bit more for what it is, and also because of what it is not.
(designed by
Kevin George
, who even based on his corporate profile seems like an interesting guy)